Foundations of Persuasive Progressive Messaging - Module 2 of 7: Frames
Civil Liberties Union for Europe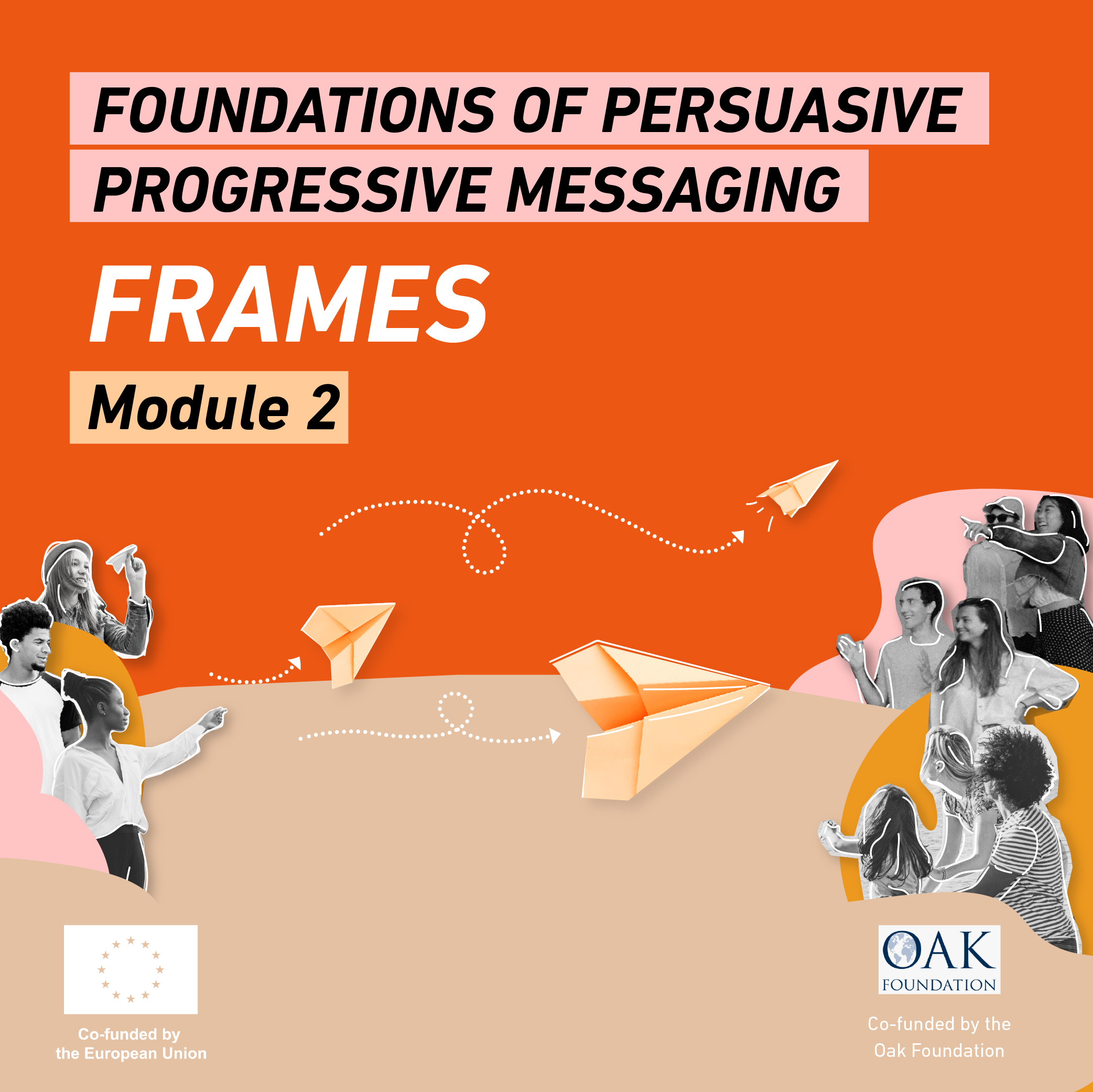 Welcome to Module 2 of this seven-module course, Foundations of Persuasive Progressive Messaging. In this module we'll look at the role frames play in shaping our attitudes and opinions. You'll learn what a frame is, that the frames your audience already have influence how they interpret what you tell them, that how different ways of framing the same objective situation can frames prompt different attitudes, and how to recognise your opponents' frames.
Please note that you should complete Module 1 of this course, on values, before beginning this module.
About Foundations of Persuasive Progressive Messaging
Course Description
Why should I take this course?
Progress on social justice, human rights and environmental protection is hitting strong and effective resistance from certain political and corporate interests. Among the problems progressives face is the way we communicate, which is often ineffective and counterproductive. This course gives you the skills and know-how you need to message in a way that shifts public opinion in favour of your causes.
Who is this course for?
Anyone working for an organisation that promotes causes related to human rights, social justice and environmental protection. If you work on these topics for an NGO, social movement, international organisation, national human rights institution or a central government department, then this is for you.
I don't work on communications. Is the course still relevant for me?
Absolutely. The course is useful for staff who work on the substantive legal and policy side of things, as well as colleagues who work mostly on communications, for two reasons. First, the legal and policy experts often have to talk to the public via the media. Second, these folks also need to collaborate with their communications colleagues to translate their technical language for a non-expert audience.
Requirements
We recommend students prepare for this course by taking LIB001 "How To Message On Human Rights", although it is not a prerequisite.
For the best learning experience, we recommend a stable mobile or desktop connection to view the videos and complete the exercises.
Estimated time to complete this module: 1 hour
Modules in this course: 7 (Diplomas* will be granted after successfully completing all modules.)
Course Staff
Dr. Israel Butler - Head of Narrative and Framing, Liberties
Israel trains and mentors campaigners and civil servants to develop winning messages that build support for progressive causes. Before retraining in strategic communications he led the advocacy teams at Liberties and the Open Society European Policy Institute promoting democracy, the rule of law and fundamental rights in the EU, and was a legal researcher and speech writer at the EU Agency for Fundamental Rights. He has a PhD in international law and began his career as a lecturer. He has published two books, numerous policy papers, peer-reviewed articles and opinion pieces in EU-focused media outlets.
For inquires related to knowledge hub courses, please contact us: knowledgehub at liberties dot eu
This course is made possible by funding from the EU and the Oak Foundation.
*Diplomas are granted by Liberties and are not certified by an academic institution or authority.